Christmas Ornament - Cloisonne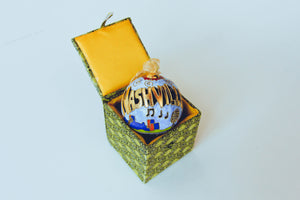 Our cloisonne ornaments are handcrafted in an eight step, intricate process - each one an individual work of art.  The design elements are metal wires that are formed by hand, then 24k gold plated in the last stage of the rare and special production process.  The metal base of each ornament ensures that they are very durable and shatterproof, truly meant to last a lifetime if handled with care.
Please note that the ornament you receive will vary slightly from the picture - no two ornaments are exactly alike due to the handcrafted nature of the cloisonné process.  Slight variations are expected and part of what makes cloisonné so distinctive.
Keepsake and gift box included.  Very limited stock, as these ornaments are designed specifically for our shop only.