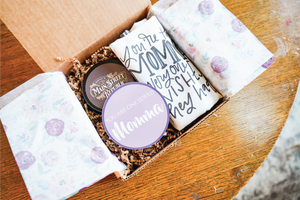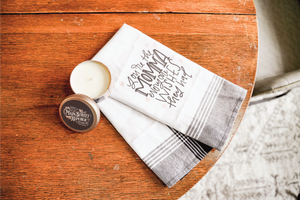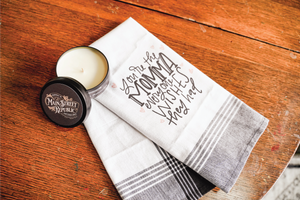 Product image 1

Product image 2
Product image 3

This gift is for all our special Mom's out there!  In her box, she will find a curated gift just for her,  beautifully and thoughtfully packaged. Each gift box includes a kitchen towel that says, "You're the Momma everyone wishes they had", one of our most popular candles, and a complimentary encouraging sticker.  Whenever you purchase, please let us know which candle scent you would like us to include out of our two best sellers  - Grapefruit & Mangosteen or Egyptian Amber.
The Grapefruit & Mangosteen candle has a true-to-life blend of ripe, tangy grapefruit and mangosteen- an exotic fruit that is citrusy and sweet with a hint of peach. This fragrance has a bright, punchy character out of the bottle that mellows just a bit in wax, with a slight creaminess that keeps it balanced. The fragrance reaches equilibrium while burning, with both fruits meld into a strong, bright fragrance with a hint of peach and a naturally derived sweetness.
The Egyptian Amber candle is an alluring, woody fragrance oil with bold musk aromas. A light touch of jasmine and ozone gives way to a heart of sandalwood, leather, and earthy patchouli. Amber and musk base notes wrap up this mysterious and complex fragrance. 
Both candles smell amazing!
The kitchen towel is approx. 20" x 28" and 100% cotton.
This purchase qualifies for free shipping in the continental usa.